The most common mistake that occurs is people confusing Hollywood FL with the 'real' Hollywood. If you are looking for the Cali edition, you are in the wrong place. However, if by any chance you seek guidance with Hollywood FL, you are in luck! You are looking at the best movers Hollywood FL you can find! Movers in Broward County are here to satisfy all your relocation needs and ensure a safe, effortless and stress-free transitions for you, your business and/or your loved ones.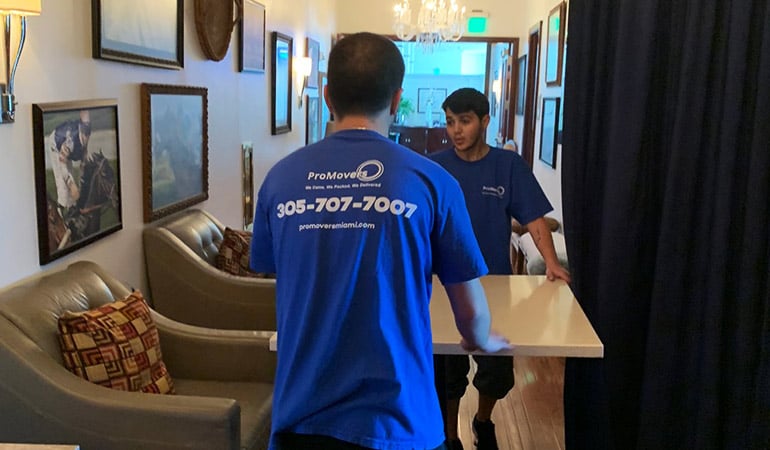 Our movers Hollywood FL combine extensive years of experience with state of the art equipment and detailed training to deliver the highest level of service you can find. This combination has led to an incredible amount of satisfied customers who gave very positive feedback about our service. So, why is this so? Is good equipment and experience really all it takes to be ahead of the competition?
Not quite. The moving industry is no longer what it used to be. It has changed quite a bit. The change was good because the change meant growth. But this growth, even though it is good for you, the customers, is quite bad for the companies. Once, it was 2-3 companies being competitors to one another. Currently, it goes above 20 per geographical location. So what is the element that differentiates a good moving company from a less good one?
Movers Hollywood FL – The secret of success
In comparison to our direct competitors, our movers Hollywood FL keep you at the forefront of everything we do. The common mistake a lot of moving companies make is placing the relocation to the forefront of everything. Hence, they fail to realize that the move is only as successful as much as the customer is happy.
This is why the main focus of all of our professionals is you. Our moving expert focus on the move, but they prioritize your wishes and desires over any other element. If we are able to keep you happy, and not have you stress about anything – we have succeeded in our mission. This is the key to our success, our very high reviews and the number of people that reference us to their friends or family.
Aside from this, we offer an abundance of services that, in combination with our approach to work, ensure an extremely positive experience for you, your business and your loved ones. Therefore, this combination ensures your satisfaction, which is the main objective our company has.
Our Services
We offer the main moving service that can be explained quite bluntly. Gather the belongings, carry them to the truck, load the truck and transport to the final destination. This is nothing special and unique, and this is what numerous other companies offer. Or at least they should.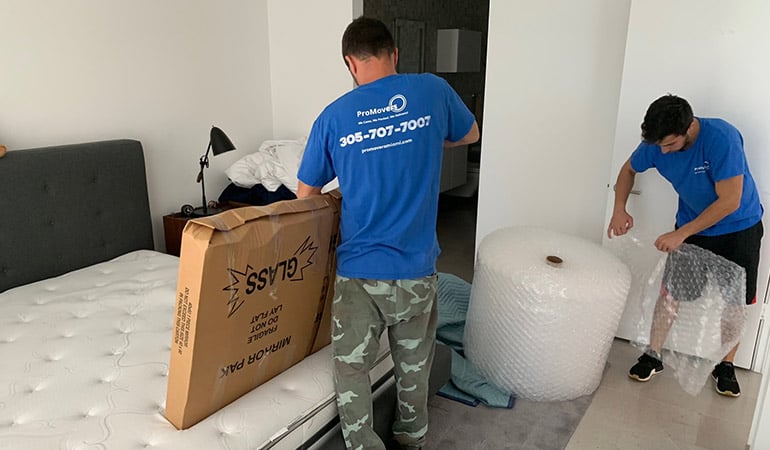 The moment that distinguishes us from others is the fact that we offer almost all secondary services that complement the main one. Usually, you as customers have to go to several companies to obtain the entire package of services. Here at Pro Movers Miami, we offer everything in one spot. We can be your one stop shop for all your moving needs. We offer the comfort of finishing everything with a single company, without having the need to wonder about and talk to multiple businesses.
Furthermore, it doesn't matter who you are as a client. We cover both residential as well as commercial moves. If you are wishing to relocate with your family, we will gladly take all the tedious work out of the process so that you can enjoy the beginning of a new chapter with your family.
Residential Relocations
In most cases, people ignore the most beautiful part of a residential relocation – a beginning of a new chapter in your life. This transition should be enjoyable and should be celebrated throughout the process. Thanks to movers Hollywood FL and their expertise, you are able to do just that. Our trained professionals will take all the other terrible things out of the equation.
This is why we tend to place our customers at the forefront of everything. So the most important thing for us is to enable you and your family to enjoy the process of relocating. It is a beautiful beginning of a new chapter in your life and you should most definitely make the most of it. We will take care of everything else.
Commercial Relocations
Running a business is a challenge enough in itself. Believe us, we know. We know just how much we can get thrown off the rail. Relocating your office is just that. We perfectly understand just how much such a relocation could be disruptive for your business. Especially in the competitive market we live in today!
This is why we wish to keep you as the most important element of this relocation project. Hence, we wish to try to minimize, or completely abolish, any downtime caused by the relocation. As a result, our endgame objective is to make sure your business is not disrupted for even a minute, hence respecting your time and not losing you any money. So that is what our business clients respect the most about us.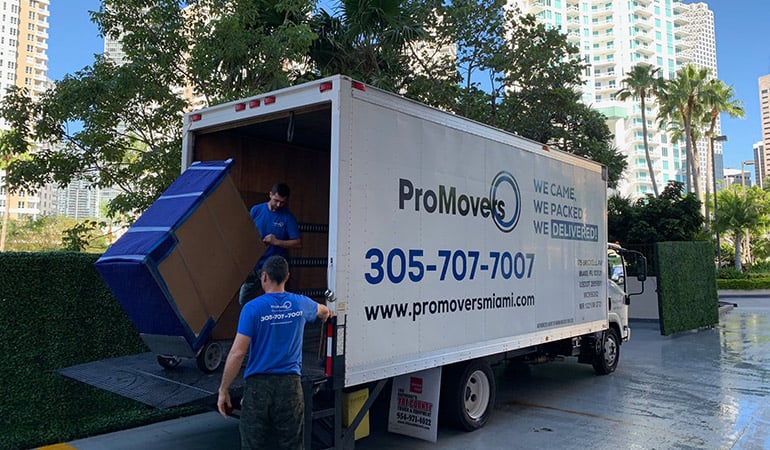 We respect your time. We know how time is valuable. Furthermore, we wish to show you just how much you are valuable to us. Without you, there would not be local Florida movers, and we wish to remind you of this.
Emergency Relocation
And, speaking of time, there is no move that is more difficult to execute then the one in which there is none. Emergency moving is something that doesn't happen often, nor does it happen to a lot of people. Therefore, there are few companies that are skilled enough and have the necessary equipment to execute it. Luckily, we are one of those companies.
Our movers will start dealing with your emergency moving the moment you call us. We will use our skills and experience to figure out how to properly relocate you in the least amount of time. We can practically guarantee that your move will be done in any time limit that you can give us, since, so far, there was never a situation in which we couldn't deliver. So, if you've found yourself in a difficult situation, and you need someone to relocate you in short span of time, hire the best movers Hollywood FL. Hire us.
Storage Service
Storage is something that most of us use at least once in our lifetimes. Be it for executing a complicated relocation or for simply decluttering your home, a storage unit can be a great solution. So, if you find yourself in need of reliable storage, you should give us a call. As one of the few moving companies Hollywood FL that provide both moving and storage services, we can deal with your whole storage situation. Our team will help you figure out the best storage solution for your need and help you move your desired items for storage.
Our movers Hollywood FL will, furthermore, give you valuable advice on how to prepare your items for storage and how to pack them properly. Use our considerable experience to your advantage and listen to our professional advice in order to make the most out of our storage units. We are more than happy to give you this advice as our firm belief is that a happy customer is the best commercial.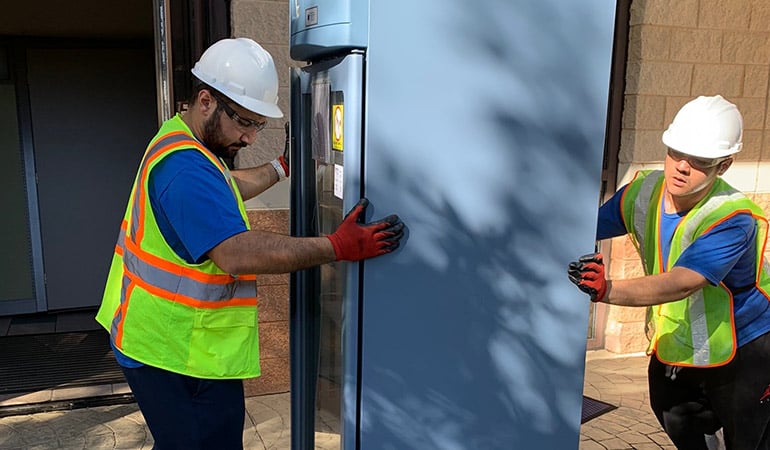 Packing, wrapping, and boxes
Packing is one of the most underestimated parts of relocation. In order for your move to be a success you need to have your items packed properly and you need to use packing equipment that is of good quality. Well, the good news is that our movers Hollywood FL will happily provide you with both the supplies and the services needed for proper packing.
Although there are numerous online guides for packing, we strongly advise you to leave it to us. A small mistake in packing can easily lead to a moving mishap, or even to a moving injury. Therefore, you shouldn't risk doing it on your own if you do not have the experience. Let us deal with packing so that you can be sure that your move will be as safe as possible. Furthermore, by letting us pack you, you will have more time to prepare other parts of your relocation.
Moving insurance
One of the unfortunate facts about moving is that accidents do happen. Even if you hire the best movers Hollywood FL and us deal with the entirety of it, there is always a risk of a moving accident. Sure, you can, and should, mitigate it with proper packing and by using good moving equipment. But, there is always that chance. That is why we offer moving insurance. By ensuring your items with us you will rest easy. If something happens during the relocation we will reimburse you for the cost of the damaged items. The only thing you need to do is to work with our team and figure out the type of insurance that works best for you. Different types of relocation require different types of insurance and the more you get familiar with our insurance system, the better insurance you are going to have.
Long distance Relocation
Long distance relocation can sometimes take a lot of planning and organization. Then, come moving day, it will take a lot of skill and experience to put that plan into action. While not a lot of moving companies Hollywood FL are capable of handling such project, we proud ourself as being one of the few that can. Our movers have relocated people abroad as well as everywhere across the US. We are familiar with all the things that make long distance moving much more different than local residential moving. Therefore, we will help you prepare and execute your relocation as you could never do on your own. Moving mishaps that you would not affect you on a local relocation can cost you a fortune during a long distance one. So, we urge you to give us a call if you are planning a long distance move.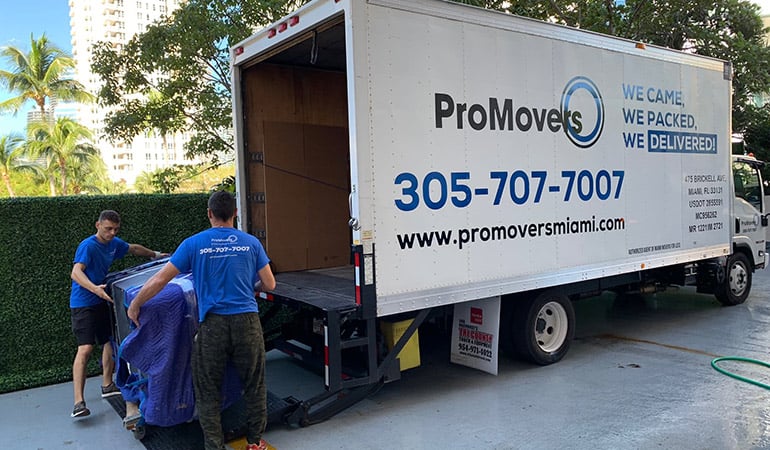 What moving companies Hollywood FL would like you to know
As one of the best movers Hollywood FL, we have quite a substantial experience with moving clients. Usually, we have no trouble with dealing with any kind of moving demand they have of us, but there are certain things that you should be aware of. By being aware of them you will do you and us a huge favor and make your move much more efficient.
Moving is a team project
Unless you hire us to deal with the entirety of your relocation, you are going to play a certain part of it. And we would like to remember that moving is a team project. Our movers Hollywood FL will follow all the necessary moving standards and fulfill all the time limits. But, what we expect from you is to do the same. In order for your relocation to be a success, we need you to be organized and punctual. Proper moving requires us to work like a well-oiled machine, and if one part doesn't work the whole machine suffers.
The more time you give us the better
While we can deal with an emergency move, we always recommend to our clients to give us as much time as possible to relocate them. Proper moving takes time. Therefore, the more time you give us, the better we will be able to execute your move. Furthermore, your relocation will be cheaper if we have enough time to make it so.