Are you searching for some of the most reliable movers Brickell offers to help you relocate? If you do, Pro Movers Miami offers a wide array of quality moving services. No matter whether you are moving long-distance, locally or you need a last-minute solution, we can provide you with a complete, stress-free moving experience at reasonable prices. If you are looking for a professional moving company with experience, give us a call and see what we can offer.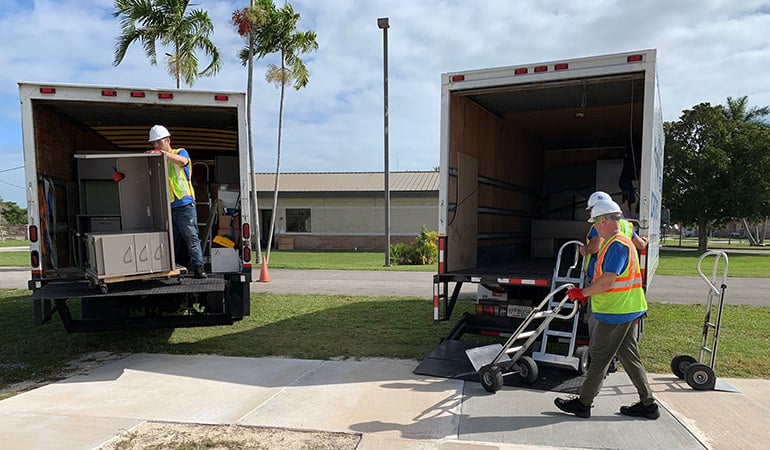 Our movers from Brickell offer a wide array of moving services
Finding a reliable moving company that offers a complete set of services is never easy. Many moving companies like to present themselves as the best. Still, only a few movers can answer the challenges that customers put in front of them. If you are looking for movers that can cover your move to Miami from start to finish, movers Brickell FL offer:
Get you free moving quotes today
Our company understands that moving does not always come easy on the budget. That is why we urge our customers to get our free Miami moving quotes before they decide to hire a moving company. Do not settle with the first quote you find online. Get at least a few estimates to compare. If you do this, you will find out that what we have to offer is exactly what you are looking for.
Moving locally? Book Florida's top moving experts
Local relocation should be the easiest type of move. However, inexperienced movers can land you in trouble even when you are moving across the street. Insufficient packaging, inadequate handling, poor vehicles, are all things that you can come across if you are not careful when hiring movers.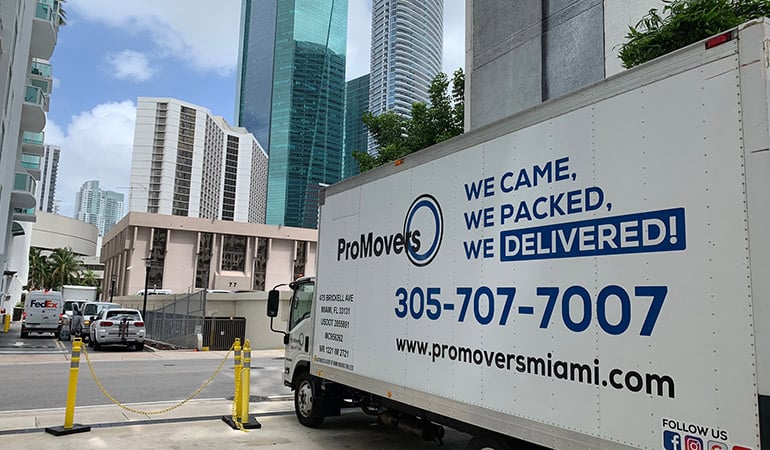 If, on the other hand, you decide on our local moving services, our experienced and reliable movers will give their best to provide you with a smooth and stress-free moving experience. Even when you are moving short distances. Therefore, do not wait any longer, give us a call, and schedule your relocation today.
Make sure that your long-distance relocation goes as planned by hiring Pro Movers Miami
Long-distance relocation is one of the most complicated processes in the moving industry. That is why it is crucial to find a trustworthy moving company with a skillful and experienced moving crew and suitable equipment to cover your long-distance moving. If you decide to hire Pro Movers Miami, you know that Florida's top moving professionals will handle your items. This fact alone will allow you to relax and go through your relocation without any concerns. Call us, and our moving experts will handle your long-distance move with ease.
Suddenly decided to move? Our Brickell movers can help you
Planning is probably the most important part of every move. If you do not plan your relocation right, you cannot hope that everything will go smoothly. But what to do when you need to move suddenly and you do not have the proper time to plan? If you are moving at the last minute, our emergency moving service will be there to give you a hand. We are specialized in quick and complicated relocation situations and we know how to organize your move quickly, even if you are moving in a few hours. Do not be afraid; call one of the most trusted moving companies Brickell to provide you with all the necessary help.
Simplify your move and protect your items by hiring our professional packing service
When it comes to the moving process, probably the most complicated and difficult thing people have to do is packing. Counting your items, making inventory lists, gathering packing materials, wrapping, packing, and labeling your boxes are just a small part of the packing process. When you pack on your own, not only that you need to invest a lot of money and effort, but it can also be very time-consuming. Unfortunately, most of the time DIY packing ends up in inadequately packed items. Do not waste days packing. Call our professional packers. Your items will be packed quickly, securely, using quality packing materials. After you move, we will even unpack everything. If you are looking for a way to simplify your relocation, hiring our packing and unpacking service is the way to go.
Looking for suitable storage for your items? We offer a variety of storage solutions
Quite often during a move, our customers need storage services. Whether it is just for a few days until their new home is ready or as a long-term solution for keeping their excess items. If you are thinking about decluttering and having a fresh start at your new home without the items that once clogged your old place, movers Brickell offer clean, dry, pest-free storage units.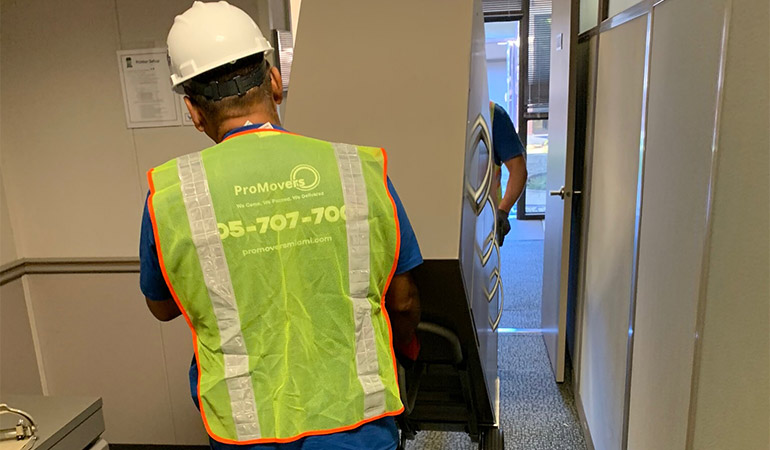 You can keep your items at our storage facility for as long as you like. Our high-security climate-controlled units offer proper protection and a suitable environment for every type of item. Call us today, schedule a visit, and see it in person.
Our Brickell moving company offers different types of moving insurance policies
As we already mentioned, moving is a complicated process. Naturally, some relocations are more complex than others. For example, moving locally with just a few items on board is not considered a high-risk situation. On the other hand, long-distance moving because of the sheer length of the move is a situation where your items are at risk of damage. True professionals from reliable moving companies Brickell understand that your items are your most valuable assets. That is why we offer our clients various moving insurance options to cover every possible situation and risk. We care about your belongings, that is why we will make sure that they are completely covered.
Count on numerous additional moving services
It certainly means a lot when a professional can complete some of the tasks on your behalf. Should you put your trust in some of the most professional movers Brickell FL can offer, you are going to get more than you are hoping for. To be more precise, you can count on our:
As you can see, we got you completely covered. In fact, we can provide you with some other services as well, but it is much better to contact us and learn everything from our representatives. Feel free to let us know your plan for your moving process and we are going to find the perfect way to make it happen.
By hiring us, you will have experienced Brickell movers by your side
Considering the fact that the moving process is highly complex and demanding, it should be handled by professionals. The good thing is that you have a chance to rely on the trustworthy movers Brickell has to offer. We are devoted to our work and we are going to make sure you feel comfortable throughout the process. What matters the most to us is that you are satisfied and this is why we want you to let us know your moving wants and needs. Even if you are living in Miami-Dade County, or, more precisely, in Brickell, FL and you are moving locally, it is still preferable to have a reputable mover by your side. Feel free to contact us and ask everything you would like to know- we are always at your disposal.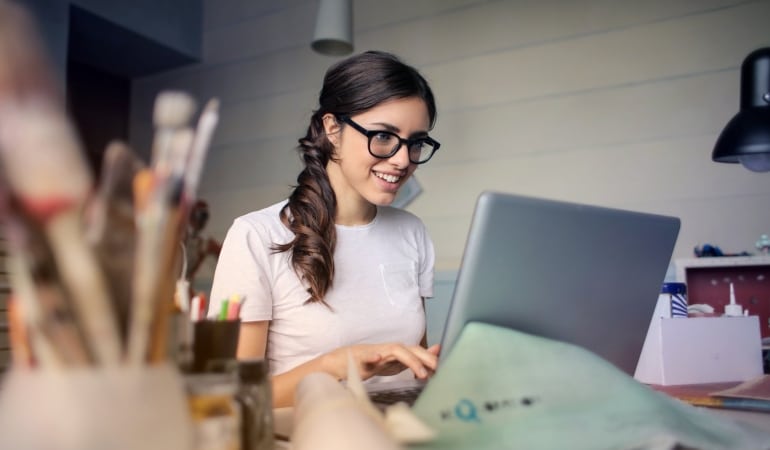 Read our moving reviews and you will see why people put their trust in us
There is yet another way in which you can see for yourself that we are a trusted moving company. All you should do is visit our website and read our moving reviews. Even if you are relocating on short notice, try to find a few minutes for reading the reviews.
Our clients have been kind enough to share their experiences. By reading these reviews, you are going to get a much clearer picture of how we do our work. You will see what parts they were especially satisfied with and which services they recommend.
If you are searching for reliable, professional, and affordable movers in Brickell, call Pro Movers Miami
Whenever you are looking for the most reputable movers Brickell offers, call Pro Movers Miami. We will provide you with a complete moving service and hope for your complete satisfaction. Do not waste your time trying to organize the entire process and complete the tasks by yourself. We are here to make your relocation a positive and stress-free process. You can be sure that our professionals are going to take a step further if necessary just to meet your moving needs. Get in touch with us today and see what we are offering.