What to do for family fun in Miami
When we say Miami our first thoughts usually drift towards crystal blue waters, long sandy beaches, and vibrant nightlife. While that's absolutely true, Miami has a lot of other qualities as well. It is a city that has a lot to offer to its residents, fellow travelers and tourists alike. That is not much of a surprise considering the fact that Miami is one of the leading cities in the world in terms of economics, trade, tourism, fashion, and sports. Do you plan on coming to Miami with your family? You made the right decision as there are a lot of opportunities for family fun in Miami. Stay with us to learn a thing or two about where to go and what to do with your family in Miami.
Miami is a true metropolis and the most populous city in the state of Florida. Its metropolitan area is the 7th largest in the United States. Booming business opportunities and a favorable climate are what attracts people to Miami. If you wish to move to Miami, check out some of the movers north Miami FL to find out about the best deals for your relocation.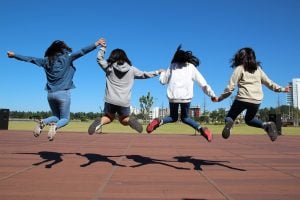 Family fun in Miami including animals
Miami has a wide array of interesting sports to observe and interact with all sorts of animals. Due to its location on the southern part of the hemisphere, it is possible to find a lot of tropical and exotic species.
Zoo Miami
This is a great place for a daily trip with your loved ones. Full of green areas and funny animals, it is perfect for escaping from the city noise. Zoo Miami is one of the best-equipped zoos in the country with over 3,000 different animal species. There, you can find a lot of savannah animals like elephants, rhinos, giraffes, and zebras. Best of all, the animals are not caged and they roam freely in their areas. Zoo Miami boasts a huge number of different reptiles including Komodo Dragons, Galapagos Turtles, and Alligators. For taking a tour around the zoo, there is a monorail system or safari cycle available. Other fun activities at Zoo Miami include a carousel and splash zone, perfect for hot days.
Jungle Island
Another must-visit destination for those who love nature and animals. Jungle Island is known for its massive population of various tropical birds and parrots, but you can also spot alligators and tortoises here. Kids love to watch daily shows with monkeys, which take place here every day. Other attractions here include Parrot Cove, Jungle Island's private beach and a 600-foot zip line.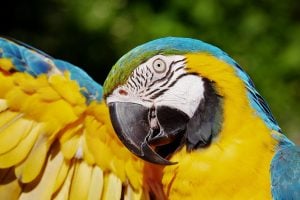 Everglades national park
Located outside of Miami, this is the place to observe Florida's autochthonous animals, specifically alligators, crocodiles and giant turtles in their natural habitat. It's basically a swampland and the best way to explore it is to take an airboat tour.
Seaquarium
Ideal for everyone who loves seals, dolphins and other sea animals. If you like to watch dolphins and killer whales perform tricks, this is the place for you. When the show is over you can take your kids to a pirate-themed playground.
Miami Children Museum
Cementing Miami's status as the children-friendly city is the Children Museum. Opened in 1983, it holds many exhibits with themes ranging from arts, culture, and science to every-day life. All the exhibits are interactive and offer the kids a chance to learn a lot of new fun facts trough play and games. Kids can test their musical abilities here in the Music Makers Studio or learn about the importance of marine life at the Ocean Odyssey and Sea and Me exhibits.
If you decide to relocate to Miami with your kids, it is advisable to look for professional help for your move. Miami moving and storage is a good place to start with your research and education on that matter.
The beaches are an ideal place for family fun in Miami
This is a pretty obvious choice for anyone thinking about spending a vacation in Miami. Because of the great weather year-round, outdoor activities come in abundance. Miami Beach is by far the most popular with its rich offering of restaurants, bars and coffee shops, all in the famous Art Deco style. Crandon Park is another option for those seeking some peace and serenity. It is on the outskirts of the city, but your effort will be rewarded. There is a lot of places to set-up a barbecue or to take a kite or kayaking lessons.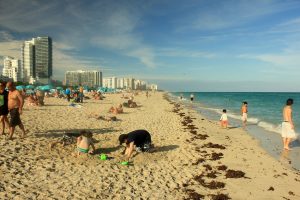 To discover the oldest building in Miami, go to Bill Baggs Cape Florida State Park. The Lighthouse alone will make your trip worthwhile, while the picturesque scenery will leave you breathless. This is a great spot to take some amazing photos. Another place to go for a swim would be the Venetian Pools. This is not your regular public pool. Built in 1923 out of coral rocks, this is not an ordinary pool. It looks like Roman thermae with all those waterfalls, caves and bridges.
Museums are a great source of family fun in Miami
For your daily dose of culture visit one of many museums that exist in Miami. Along with the aforementioned Children museum, kids will also love:
Phillip and Patricia Frost Museum of Science with its interactive exhibits.
Perez Art Museum has days dedicated especially to children with various art classes and workshops.
Miccosukee Indian Village can be an interesting way to teach your children Indian ways of life and culture.
Wynwood walls is not actually a museum, but is home to a vast collection of street artwork. Created by some of the most famous artists from around the world, the murals are colorful, lively and interesting for children.
Miami is a melting pot of different cultures and influences. Such a large and diverse city has a lot to offer to kids as well. These were some of the most prominent places for family fun in Miami. Now it is up to you to decide where to go and to plan your route. Have a great time visiting Miami!