The best rooftop bars to visit in Miami
Basking in the sun is one of the favorite activities in the Sunshine State. Miami, being the capital, is one of the most famous places to sunbathe and do other beach related activities. But then, maybe you do not want sand between your toes but still want to feel the sun burn on your skin. All of that coupled with an ice cold cocktail and some 80s disco music. Hmm, there is still something missing in this glorious mix. Oh yeah, a cool breeze you feel when sitting up a couple of stories above the ocean. Therefore, we present to you the best rooftop bars to visit in Miami! Let's party!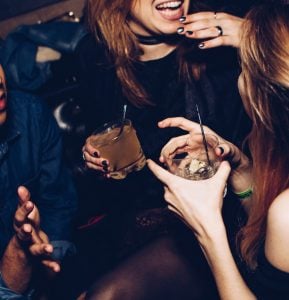 Area 31, Epic Hotel
This beautiful rooftop bar is located on the 16th floor of the magnificent Epic Hotel. Although it is not really a party spot, it is surrounded by skyscrapers and offers a beautiful view of the Miami skyline. You may even catch a glimpse of movers North Miami FL doing what they do best. A sight to behold, indeed! Other than that, the bar also offers amazing cuisine prepared by the famous Executive Chef Wolfgang Birk, who specializes in innovative seafood. He can also slice up some meat and give you a meal you will never forget. You can also get anything from breakfast to dinner in this place. Also, couple that with the amazing collection of wines and bubbles they are offering, and you have found yourself one of the top-notch rooftop bars to visit in Miami.
Sometimes Area 31 features DJs and other music artists during the evenings. This makes the place famous for nightly sophisticated parties with a very vibrant and trendy crowd. Certainly, a must visit when you are in Miami.
W Miami
This place is a full on party location. It is on one of the highest rooftops in Miami, if not the highest, standing on the 50th floor. This bar features a pool in the middle, where you can take a dip while you sip your well-made cocktail. When you exit the pool, sit down in the lounge and enjoy a snack. If you wait up until the evening, you will have something to see. The rooftop lounge turned into a vibrant night club! There are DJs playing their sets almost every weekend and it is usually crawling with people. There are also themed parties so make sure to visit this place when you are in Brickell! If the vibrant party is not enough to lure you in, just try one of their cocktails. You will not regret it!
Highbar at Dream South Beach
This is one of those places that come to mind when you imagine a Miami bar. Well, it is time to make that dream a reality and visit Highbar at Dream South Beach. If you want a lounge atmosphere, a rooftop pool, and great cocktails, and all of that coupled with an amazing view of Miami's famous South Beach, then you have come to the right place. If you come during the day, you are welcome to enjoy the pool, and if you come during the evening, you can relax on one of the luxurious sofas or sunbeds perfectly positioned around the pool. Wherever you sit, you will be able to catch a glimpse of the beautiful Miami skyline. Try one of the signature margaritas, or have a bite from the downstairs Naked Taco Mexican restaurant.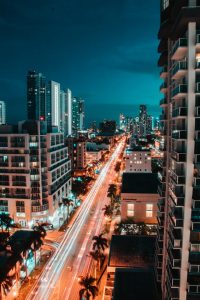 Unlike most rooftop bars, Highbar is mostly crowded during the day, with people enjoying the sun and basking in the pool. Later in the evening, it turns into a chill lounge cocktail bar. Make sure to visit one of the best rooftop bars in Miami, Highbar at Dream South Beach!
Sugar
This bar is located in Brickell on the top of a 40-storied building. It is very trendy and popular because of the amazing view it offers and a wide selection of oriental cocktails. The interior of the bar looks like a garden from Alladin, and you will delve deep into the fairytale-esque surroundings as soon as you order your first cocktail! However, in order to enjoy hanging out in the Sugar, you need to make a reservation. It is very popular and almost always filled to the brink. If you do not make a reservation, be prepared to wait in a line. This line is even longer during the weekends, so be sure to make a reservation prior to visiting. You can, for example, visit the bar after you unpack after your move. Throw out those moving boxes Miami, and get on the phone to make a reservation. The sooner the better!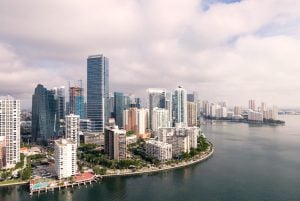 Astra
This bar is located in Wynwood, one of the fastest growing neighborhoods in Miami. It is a Greek-oriented type of bar and it is a must visit when you are visiting Wynwood. A perfect place to visit after your drawn out long distance move. It is not as high as the other bars in this list, but that does not mean that it does not deserve a place on this list. With its retractable roof, it is able to accommodate about 350 people and everyone can enjoy some of the Greek specialties such as Souvlaki (skewered meat), Bifteki (Greek burger), and Paidakia (grilled lamb chops). If you want something to drink there is something Greek for you. You can try the famous Ouzo or Mastika two kinds of sweet spirits, very pleasant to the taste buds. One of the best rooftop bars to visit in Miami, for sure!
To conclude
When thinking about which places to visit in Miami after your local move, visit this article and maybe check out one of these bars. We have listed some of the best rooftop bars to visit in Miami, and they are all amazing places to unwind. Enjoying the sun, cocktails, and some light bites are everyone's favorite way to relax. If you find someone that disagrees, show them this list. It will surely change their mind!