How to deal with moving in bad weather from Coral Springs
Florida is known for its nice weather. However, when it rains, it rains hard. Relocation is often considered challenging and difficult. This even more so the case when moving in bad weather. There are a few things that you have to do in order to successfully and safely relocate under harsh weather conditions such as rainstorms. In this article, we are going to discuss ways in which you can ensure a safe and smooth move in bad weather. To begin with, let us take a look at some of the ways in which you can protect yourself and your inventory, and later move on to discussing the importance of hiring a professional Coral Springs moving company for your relocation.
Preparing for a move in bad weather
One of your biggest worries when moving in bad weather is going to be how to protect your items from any external damage. It may seem hard but packing your inventory while having in mind the effects of bad weather on your items is necessary. This is especially the case if you are moving in the rainy season which in the region of Florida, usually ranges from May to October. There are a few important steps that you need to take when trying to protect your items from the effects of the bad weather.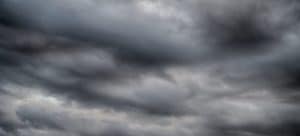 Getting the right packing supplies
The first thing you need to do when packing for a move in bad weather is to acquire the right packing materials and tools. The right packing supplies are going to protect your items from any external damages including rain, wind, and hail. So, what are some of the essential packing supplies for a bad weather move? They are the following:
Waterproof bins. Cardboard boxes are quite durable but if you want to make sure that your items such as books and important documents do not get soaked in water, you should get waterproof bins.
Padding, bubble wrap, and packing tape. Padding should be added from all sides once your items are packed inside the bubble wrap and put in the boxes. You can use various items to provide the cushioning effect such as newspapers, packing foam, etc. Packing tape is there to make sure that your box stays closed. So make sure you wrap it in several layers.
Large plastic bags. Plastic bags are a good line of defense against rainfall. If they are large enough you can even wrap your furniture in them.
Labeling materials. Each box should be labeled according to its content. This can help your movers know where each box should go and which one should be handled with extra care.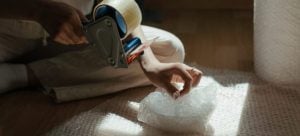 Have professionals assist you with the packing process
If you want to ensure that your items are protected during your move and you do not have the right packing materials, do not worry! Professional movers are there to help. Make sure that you do your research when looking for moving companies in Florida. Find reliable movers that offer good packing services as well as other moving-related services at affordable prices. If you have artwork or other sensitive items it is best to let the pros do their work when packing your supplies.
Prepare yourself during the moving day
When the moving day comes and it is raining outside, for example, you want to be prepared for it. So, get an umbrella and proper clothing ready. Wear boots designed for rainy weather. Warm clothing is also important. You may be thinking about your items and their safety but it is also important to properly protect yourself and your family when moving in bad weather. Wearing the wrong clothes is one of the common moving injuries during relocation.
Wait for a break in the weather
If it gets really bad, it may not be a bad idea to consider postponing your relocation. Sure, nobody likes delays. However, a giant thunderstorm is definitely not the right time for a move. You can try and protect your items when it's raining or when it is wind but to move in a storm is quite risky. So, sometimes you should wait for a break in the weather. If it is raining in the morning it might get better in the afternoon. Keep in mind that you have to communicate with your movers constantly. This way you can avoid any confusion. This is especially important when moving from a large area such as Florida.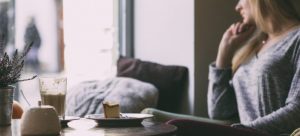 Hire a professional moving company
If you are moving in bad weather and you want your move to go a smoothly as possible, make sure that you have the right movers by your side. The benefits of hiring a professional moving company are many. The best time to use all of those benefits is when you are relocating under difficult weather conditions. So, if you are moving from Coral Springs, look for reliable movers that offer a number of moving services at affordable prices. With good movers, you do not have to worry about transportation and the heavy lifting of your items. Furthermore, as we have already mentioned, they can provide you with the right packing services and properly protect your items from any external damages.
Conclusion
To sum, up the process of moving in bad weather is not an easy one. However, there are a few things that you can do in order to handle this often difficult process with ease. Make sure that you are well-prepared, organized, and have the right packing supplies. Always be in touch with your movers and see if you can wait for a break in the weather. With the right long distance movers Florida and a good plan, you are looking at a successful relocation regardless of the weather conditions!