Remodel your kitchen without breaking the bank
To remodel your kitchen is usually a big task that costs a lot, and not just a lot of money, but also a lot of time, effort, energy and ideas. However, most people agree that the kitchen is the heart of the home, so your house will surely have a nice cosy atmosphere if you have a good kitchen in which you enjoy spending time. So, check out some storage units Miami, clean out everything you don't need from there, and let's go to work.
Remodel your kitchen with a new coat of paint
After your move to Miami, the next step is to make your new house a home, and that is not a small task. Additionally, buying a house is not cheap. The simplest and the cheapest way to remodel your kitchen is to repaint it. You can repaint anything from the kitchen cabinets (if they still have the same quality), or change the colour of the wall. Maybe you could even change the kitchen tiles to liven up the whole room and give it a fresh, modern look.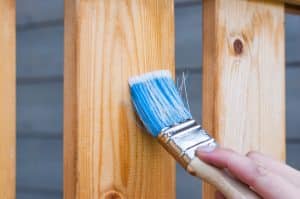 Don't get everything new
To liven up your kitchen, you don't need to buy everything new. Even if you change just a detail, as the cabinet handles, it will show. So, when you start remodelling your kitchen, start by buying the smaller and less expensive things first.
You don't have to break old tiles
If you want to put new tiles in your kitchen, remember that you don't need to take out the old ones, you can just lay the new ones on top of them. If new tiles are too expensive for you, you could just paint them with a new coat of decorative coating specialized for ceramics, or if you have wall tiles you could put a new glass panel over them.
The painting principle is the same as it is for every other kind of surfaces, except that it would be better to put a primer on ceramics and then wait 24 hours to dry, and then lay two coats of paint on it.
Kitchen cabinets
After a while, the kitchen cabinets need a makeover. If they are made from natural wood, you can renovate them by scraping them down and putting a new layer of varnish on top. The kitchen will look like new, because the colour of the wood will be slightly lighter. Painting your cabinets in white can also make them look newer. If you have damage on your inner shelves you can repaint then, or just encase them in some thick wrapping paper, fabric or wallpaper.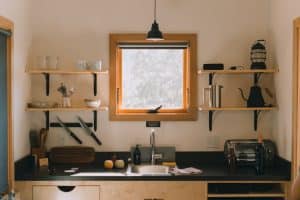 You can also use the decoupage technique for the frontals and the inner shelves. If you have glass cabinets, you can replace the glass with a new glass panel, or you can replace the glass with a metal grid, or a grid made from thin slats of wood.
If that is too expensive for you, you can always take down the glass and repaint the shelves. You can paint your kitchen cabinets yourself. If the frontal parts are made of glass, you can paint the inside part of the cabinet in a strong colour to add a bit more flare to it. Ask the seller at the store which kind of paint will be the best for your type of kitchen.
Kitchen appliances
Kitchen appliances like a toaster, a water boiler or a standing mixer in vivid colours will attract attention and bring some life into your kitchen. Think of them as jewellery for your kitchen. The best thing is that most of those smaller appliances are not expensive at all.
Additionally, you can switch out your sink for a new style.
Lighting
Lighting is a big part of the room atmosphere. If you're going crazy because of your ancient lamp, replace it with a newer one, and the same goes for chandeliers. The lighting of the room can change its look completely different. You can be creative and make your original lightning or a DIY kit. The cheapest way to update the lighting is to use a recessed lighting conversion kit, and you don't even need an electrician.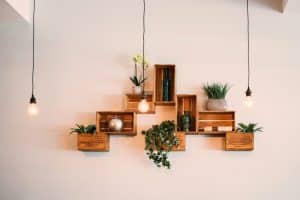 Curtains for a pop of colour
New curtains can be a real game-changer when it comes to interior design. However, make sure that the colours go well with the rest of the furniture, and if you're planning to put them up above the sink, make sure they don't have a lot of fabric.
Plants as decoration
Plants are a great decoration for every space. Find some corners or a shelf in your kitchen that you'll reserve for your greenery. Thankfully, after moving to florida you can have a lot of really interesting cactuses. You can put them by the window, above the sink, on the kitchen island or the kitchen table, anywhere you want.
Go big
In transforming your old kitchen into something new and modern, you need to look at what takes up the most space. The backsplash and countertop together take a lot of surface area, so by changing them you can make a big difference in your kitchen. You can make a new countertop by yourself, using laminate, concrete, tiles or contact paper.
Plan and prepare
After the move, it is irresponsible to have an unlimited budget as the move itself costs some money. On the other side, it is not easy to remodel your kitchen on a small or limited budget. If you move with Pro Movers Miami, your budget for the kitchen remodelling will not be diminished.  Our advice is to first find your inspiration, then think of all the different ways of how you can fit your ideas into your budget and then bravely go into the realisation of your ideas.