Ideas to decorate your Miami apartment for a Halloween
When you're a kid, you dream about Halloween candy all year long. Getting to put on a fun costume and go trick-or-treating with your friends has got to be the highlight of the fall season for any child. However, when you grow up, this fun doesn't have to stop. Even though you're an adult, you can still enjoy this spooky holiday. The trick (no pun intended) is to know how to decorate your Miami apartment for a Halloween without going too far, or not far enough. Before you take your old decorations out of your storage Miami, take a look at some of our ideas. You never know what might catch your eye!
Decorate your Miami apartment for a Halloween – tackle the door first
Whether you live in a house or an apartment, the door to your home is the first thing people will see. This is one of the easiest places to decorate, as it allows for many different ideas. For example, you can buy some black and orange curtains and hang them around the door. Alternatively, you can buy the fabric and make them yourself, adding details to your taste. Also, some spider or bat stickers are relatively cheap but will definitely make an impression. Finally, while the traditional jack-o-lantern might seem outdated, there is a reason it is still so popular. Make some creative carvings together with your family and place them outside your door for those neighborhood trick-or-treaters.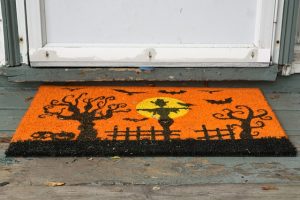 Halloween is the time when many homeowners make extravagant decorations on their front lawns. When you live in an apartment, you don't have the option of this luxury. If you would like to move from your apartment into a house, make sure to hire the right local movers Miami to ensure your relocation runs smoothly.
The mantel can be scary as well
It is a myth that you have to spend a lot of money in order to decorate your Miami apartment for a Halloween. There are many DIY ideas that are cost-efficient and interesting at the same time. Everyone knows that a mantel can add value to your home, but it is also a great setting for some decorative details in the spirit of the holiday. For example, you can place some old books or candlesticks on top of it. Moreover, you can buy cheap fake spiderwebs and place them above the mantel. While orange and black are traditional Halloween colors, you don't have to be limited by those two choices. Pink, green, yellow, grey, and purple are also excellent colors for decorating your apartment, so choose details in those colors as well.
Another excellent way to spice up your mantel is to take advantage of the family photos. Draw and cut up some silly eyes, noses, and mouths and tape them over your photos. While it is a small detail, it will definitely make an impression on anyone who spots them.
Decorate your Miami apartment for a Halloween with paper and scissors
For this next idea, all you will need is some colored paper, a pair of scissors, and duct tape. Either freehand or by using a stencil, draw some shapes on the colored paper, such as bats, skulls, mice, cobwebs, skeletons, etc. Really anything that is considered scary or Halloween-y. Next, use the duct tape to place the figures on your walls and ceilings. If, for example, you decided to make paper bats, you can tape them in a 'flying formation' on your living room wall. On the other hand, you can tape them to pieces of string and hang them on the ceiling. This will give it a 3D look that is sure to spice up your Miami apartment.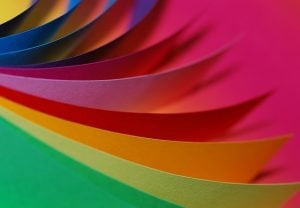 If you are not comfortable with your drawing skills, no need to worry. There are many resources online that offer printable Halloween decorations, in different shapes, sizes, and colors. Simply choose one that goes with the rest of your apartment and print it out.
A subtle touch of greenery
As we've mentioned before, jack-o-lanterns are great traditional Halloween pieces. However, you don't have to limit yourself to only one use of your pumpkins. Instead, you can empty out the pumpkin and place cacti or other plants inside. This will give your apartment both a holiday feel and one of the modern decor.
Another great way to use pumpkins is to color them in different colors. Make an evening out of it – together with your friends or family members, choose some exciting colors and apply them to dry and hollowed out pumpkins. You can use glitter, stickers, or even balloons to get them just the way you want. This is also an excellent activity for kids, just make sure that you use non-toxic paint and glitter.
Use different lights to decorate your Miami apartment for a Halloween
The lighting in your apartment plays a big role in the overall scary feel of your home. While you can't change the fixtures if you are renting your Miami apartment, there are some simple ways to add to the mood lighting effect. For example, you can buy cheap string lights and set them up along your ceilings and banisters. Furthermore, candles are a well-known Halloween must-have. They bring an air of mystery to the scene and give everything around them a certain glow. However, many apartments don't allow candles as they are a fire hazard, but there is a solution to this problem as well – fake candles. They have the same glow like the real deal, but they aren't a danger to you or your loved ones.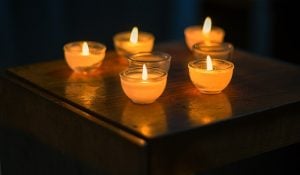 Mason jars have more than one purpose
When you are looking for creative ideas to decorate your Miami apartment for a Halloween, you shouldn't miss out on using some of the items already in your home. That is where mason jars come in. Most households use these jars for jams, pickles, for storing knick-knacks, etc., but you can use them on Halloween as well. Instead of glass bowls for Halloween candy, you can use mason jars, and give them a pop of color by painting them beforehand. Whatever your tastes, the jars are your canvas, so have fun with it.