4 insightful tips for a more sustainable business move in Miami
Are you thinking of moving your business to Miami soon? If so, you've come to the right place! Miami Movers know all the tips and tricks when it comes to commercial moving, and you can know them too. Business relocations are heavily time-dependent. The longer the transition, the more money the business owner might lose. To prevent this, we want to have as smooth of a transition as possible. You should aim to get the help of movers who will provide you a sustainable business move in Miami. To know how you can contribute to it, and make your move more sustainable – keep on reading! 
1. Choose the quality movers for sustainable business move in Miami
The first step to relocating your business is finding the right movers. As you can imagine, there is a wide variety of moving companies available, but not all of them are the right fit. Aim for reliable movers like local movies Miami. They know the city the best, and will find their way in the city more easily, in case of a traffic jam. You'll also be sure that the movers will handle your items well. This is important since procuring some items may take several days, in case they get damaged and you need new ones. You will get the insurance, so you make sure that you're safe money-wise, but you still want to avoid having delays.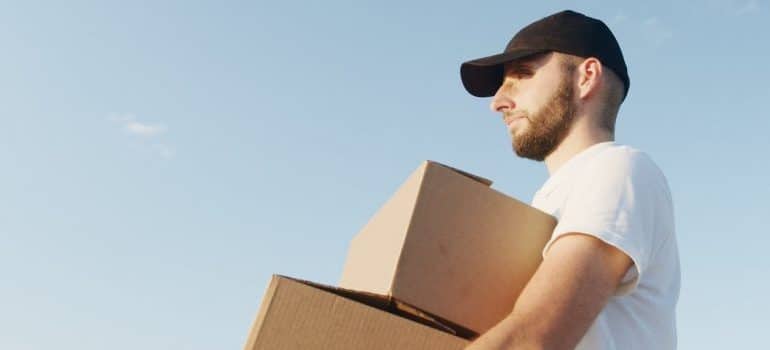 2. Mind the date
If the movers you hired operate well, they'll give you the advice on when it's best to move your items. To have the most sustainable business move in Miami, opt to incorporate those rules in your relocation:
Search for the movers as early as you can – this way you'll find the best moving quotes Miami companies can offer.  

Move early in the day – As soon as you start the move, the sooner you'll finish it. Moreover, the roads don't tend to be as cluttered in the first half of the day, as they do in the second half.

If you can, move at the beginning of the month – The beginning of the week or a month is always less busy than the end. That's because the people are focused on their responsibilities more. If you can, move in the first quarter of the month. 

Avoid national holidays – This is intuitive, but it's still worth mentioning. Everyone will rush to visit family, loved ones, relatives, as well as to buy presents. It's best if you manage to avoid moving during this period. 
Tell your employees that you're moving
To make your move a more sustainable one, inform your employees of the relocation. That way, they'll have enough time to adjust to the change. Prepare to inform them about all of the measures you're planning on taking to help them adjust to the new location, as well as how you plan on making this transition seamless. If some of them are about to have a hard time due to the location change, it's time to think how you can make their commuting easier. You don't want your business move to result in losses of employees.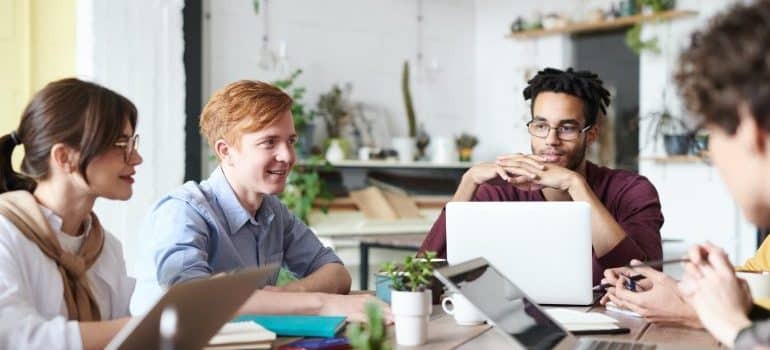 Moving part by part might lead to a more sustainable business move in Miami
While relocating partially in different times might not seem practical, it can be beneficial for business. If you make the right plan months in advance, so that each division finishes its work a week before the other one needs it, it can be done without disrupting the flow of work. Of course, a sustainable business move in Miami can't always be done this way. That's because numerous departments are interdependent, and sometimes it's just easier to face it all at once. The alternative is to try to give all of your employees company laptops and let them work remotely while the relocation is done. 
3. Give clear instruction to the movers
For a sustainable move, it's important that you know exactly how you want your move to go. Since we're talking about the business relocation, there are specific parameters and timeline that will have to be fulfilled. If you hire reliable movers,  you'll be able to find the best possible moving solution for your business move easily. In the case that you're not quite satisfied with your movers, keep these things in mind: 
Don't sign the contract before you

check it out

. Give it to lawyers to read it as well.
It's an imperative to get an appropriate type of an insurance

Take the pictures of your electrical appliances and valuable items so you have a proof of which state they were in before the relocation 

Communicate clearly with movers, and if you need to, write an email with a bullet points. Clear, concise instructions are important, and they will help you convey your message and thoughts better.
Make the list of all items
Before the movers come, make an inventory list. That way, you'll know which items you want to donate, sell, and to pack. If you can, get rid of some of the items in advance – it will lessen the moving costs, especially when it comes to the big and bulky items. Those are the ones that movers charge the most for, and if you don't need them anymore or you think that you'd benefit from selling it and buying something else – definitely do it. The inventory list will also give you an overview of the new items that you might need in the future. In the end, you'll be able to see how far you've come, and where you need to adjust.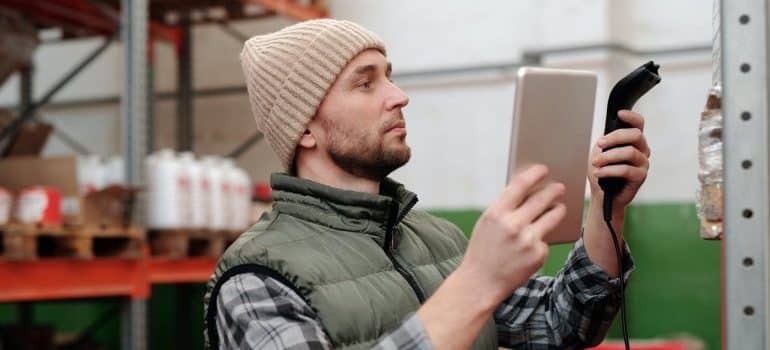 4. For a sustainable business move in Miami, compare the blueprints
In the end, one of the most significant tips for a more sustainable business move in Miami is to compare the blueprints. Comparison will give you exactly what you need to know about which furniture pieces have to go. If you create furniture arrangements before you arrive at the new place, you'll be able to tell the movers where exactly you want your new furniture to go. This will save a lot of time after the movers have gone, and you'll have a smooth transition in no time. As you can see, there are nuances when it comes to transferring a business in Miami, but it's doable – especially with capable movers like us! There's no reason to settle for less than you deserve. Give us a call and schedule a seamless business transition and keep your business running with the same intensity!